BE A WOMAN … AND WANT TO PRACTICE KUNG FU
When I decided to go to China alone, in July 2019, and plan my itinerary, which was to go through Shaolin and Wudangshan, I received several remarks from my family, including one: « but as a girl, are you sure you can stay in Shaolin? ». I had not thought about that, and it is true that in our collective imagination, when we think of Shaolin, we see monks in orange toga, men. Women are like invisibles in this place. So it was my first doubt before leaving: being a woman who travels alone and wants to learn martial arts … My stomach was in knots to the idea of ​​arriving in a male-only world. The second was my level in kung fu … which was no level. Not only had I never seriously practiced martial art but I was not in shape. I had always tended to devalue my physical abilities and not have confidence in myself in sports. So it was a double challenge that I wanted to take up. Travelling alone in China at my age without speaking a word of Chinese was something, going to practice martial arts in the heart of their birthplace was something else.
DEBUNK MYTHS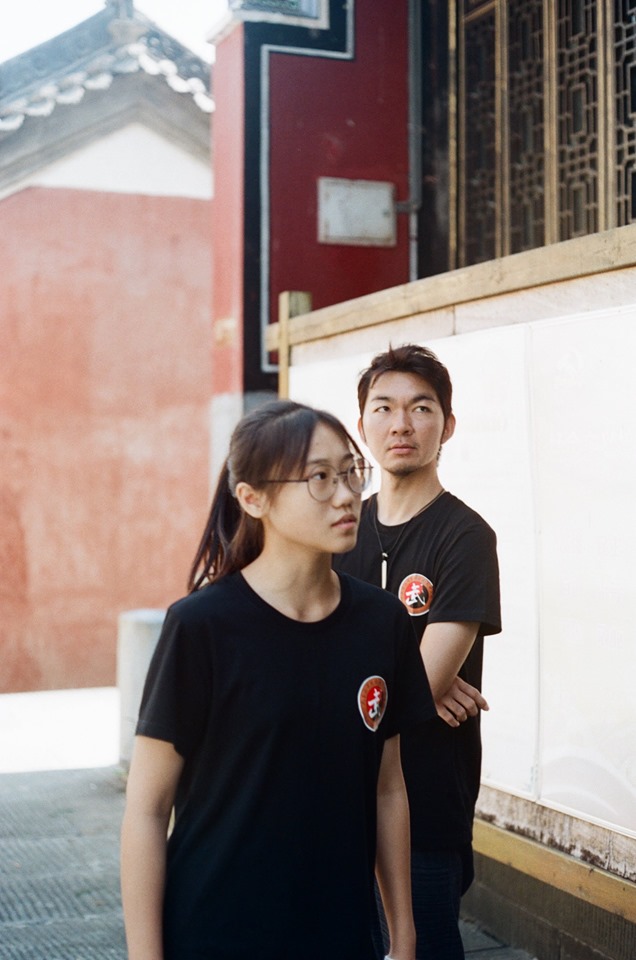 I had the opportunity, on arrival, to realize that many of my worries were part of a big myth, not only were there women in Shaolin and Wudang (most of them was also excellent in Martial arts), but I was not the only beginner either. I also realized that I had made these places sacred. I had been, like many, lulled by all the illusions surrounding martial practice. I left with my head filled with almost magical images. I had the feeling of being a stranger, and I was expecting a kind of initiation to enter this world. It must be said that this myth is roughly maintained, both in China and in the West, and that it can discourage. I left without thinking too much and speculating on my arrival at the school, but Florian reassured me, assuring me that I would be welcome here. One of my good surprises when I arrived was to discover a welcoming and simple place, the martial arts were approached in a direct way. What I noticed was also a desire to open up to the world and the non-Chinese community that would keep the authenticity of the practice of martial arts and local culture. In short, oddly enough, I felt at home just as I was passing the threshold of the school, even though everything was radically stranger to me. In addition to my ease of adaptation, there was also the privacy possible through the setting, both with international students and with local students. I became closer to the teachers, with, despite the language barrier, it was possible to create a solid friendship and a complicity.
BECOME STRONG

The training was particularly intensive for me, who had never done any sport before. I discovered everything in Martial arts. I discovered how to relax, how to make myself stronger, more capable,better endurnce, how to learn to coordinate my movements. I learned to become aware of my body, its limits, but also all that I could do with it. While I used to be a bookworm, I suddenly spent my days in the middle of nature learning a martial art. What to be confused about … But after each end of training, each end of the day (Une journée à wudang), I could feel a satisfaction I had never experienced before, that of physical effort succeed. Without realizing it, I progressed quickly, I learned quickly too. Several times, I exploded with anger, because, it must be said, fatigue accumulated in front of an exercise that I could not do. But each time too, my teacher or the students of the school had the right word to push me upward and get me to surpass myself, to constantly extend my limits where I did not think I could go. Strangely, it is by coming alone to China that I learned to know myself. Humility and self-confidence, forged under the weight of hours of training, under fatigue, effort, are the two things that made this trip so precious to me. Of course, when traveling alone, there is nothing surprising about it. But it was mainly the practice of kung fu that allowed me to become aware of my strength and what I was able to do with work and patience. Because of the patience, it is necessary, when one must repeat ten and ten times the same movement which seems, on the surface, easy as 1-2-3. It's sometimes hard to hear, and the ego takes a big hit … which is rarely a bad thing. I think I have managed to overcome the frustration that can be had when you learn that things take time to be well done, and for that I do not see any better teaching than the difficult practice of kung fu.
Pascaline