Wudangshan taoist association martial art research institute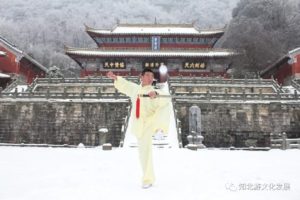 Zhang Tao (张涛)
Co-founder and national director
Level 2 national athlete
Level 1 national trainer
Coach and trainer of the 2nd largest chinese martial arts academy in China for more than 10 years
He trained several thousand chinese martial arts students
In 2012, In charge of the preparation of 3000 Tai ji quan practitioners for the national games
Since 2013, he has visited France, Switzerland, Germany and other European and Asian countries several times for educational exchanges
In 2013, he was appointed by the minister of chinese culture as one of the official representatives of the Confucius institute and cooperates with more than 16 cities.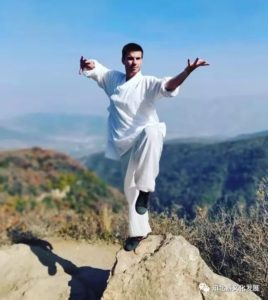 Rizzardi Florian (福禄)
Co-founder and international director
Level 2 national athlete
Level 1 national trainer and international coach
Translator and trainer in Henan province
Head of education and international relations at Shaolin
In 2019, he is appointed by the minister of chinese culture as delegate of chinese martial arts in the project "The New Silk Road"
In 2016, member of the Shaolin demonstration team and participated in more than 50 representations in China.
4 gold medals at the Shaolin Wushu world championship in 2016 then in 2018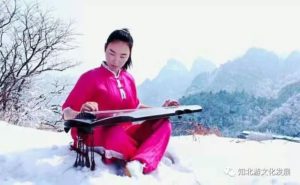 Zhang Hong (张红)
Director of high level education and competitions
Level 1 national athlete
Level 1 national trainer
National level 1 referee
Evaluator and instructor of the Chinese Grades Commission ( Duanwei )
Henan Province coach
Diploma of physical education teacher
She formed the chinese national team, a dozen national level 1 athletes and more than a hundred national level 2 athletes
She coaches and prepares numerous athletes for the national and international championships for a total of approximately 1000 gold medals, 1500 silver medals and 2000 bronze medals
Preparing athletes for the 2020 Winter Olympics
Preparation of more than a dozen actors for chinese martial arts films
Training of over a hundred national experts in Wushu
From 2007 to 2014 won many medals in national and international competitions, several times chinese champion in traditional and modern
In 2014, she won first place in the world championship of traditional and modern martial arts
In 2015, she won first prize at the national university games then at the world games.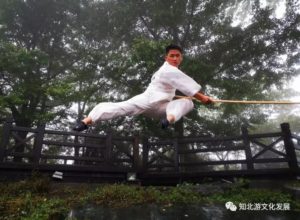 Li Jun (李俊)
Teacher and coach
Level 2 national athlete
Level 2 national trainer
Gold medal in Nanquan and silver medal in Nangun at the 6 th world traditional wushu championship
Gold medal in Shaolin boxing and stick at the Shaolin wushu world championship in 2018
Nunchaku expert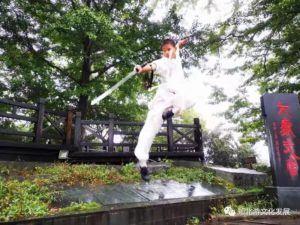 Wang Wenjie (王文杰)
Teacher and coach
Level 2 national athlete
Level 2 national trainer
In 2015, he participated in the CCTV Spring Festival Gala and performed with Jackie Chan.
He visits France, Switzerland, Thailand, Laos and Vietnam for 4 consecutive years from 2016 to 2019 to teach, visit and exchange
In 2017, he was invited to participate in the representation of Shaolin kung-fu at the press conference of Shandong TV station and was the main actor.
Expert in eagle boxing, ground tumbling boxing and drunken boxing.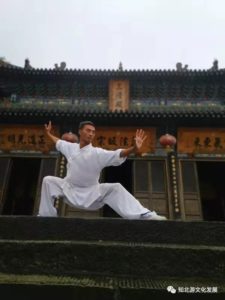 Wang Ping An (王平安)
Teacher and coach
Level 2 national athlete
Level 2 national trainer
Gold medal in traditional cha quan boxing and bronze medal in cha jian sword at the 9th world championship of Shaolin wushu
Taizu boxing gold medal and Shaolin double knife silver medal at the 2017 Henan national competition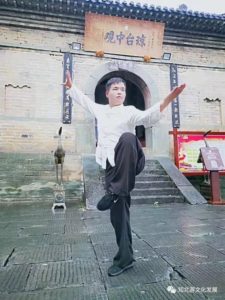 Chen Dong (陈东)
Teacher and coach
Level 2 national athlete
Level 2 national trainer
Expert in sanda and hard Qigong at Shaolin temple for more than 10 years
2nd place in the Henan sanda championship in 2011 (65kg category)
In 2014, he led the Chinese national team to Tianjin for the live broadcast "天下*情山" (Tiānxià*qíng shān)
From 2015 to 2017, he was in charge of teaching at the Shaolin temple
In 2018, he went to France for cultural exchanges